Our History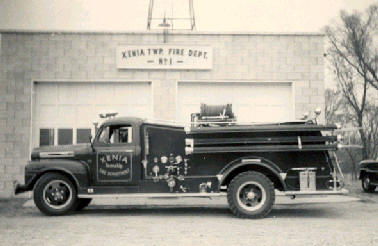 After two fires prior to August of 1948, the Xenia Township residents approached the Xenia Township Trustees, Jacob Harner, Walter Hartman, and Emery Beall, inquiring about fire protection. The trustees at the time set a meeting to discuss the possibility of purchasing firefighting apparatus. A committee was chosen to begin work on the project so that the issue could be placed on the November 1948 ballot. The committee consisted of Walter Nash, Paul Baugh and James Hawkins. There was also a discussion of purchasing two booster-tank fire trucks. Each tank would have a capacity to hold 600 to 800 gallons of water.
The committee working on the project visited surrounding departments, such as Beavercreek and Jeffersonville. They inspected the fire equipment used by each department.
By September, the trustees recommended that a $37,000 bond issue for fire fighting would be needed. Xenia Township residents approved the bond issue at the November election. The vote was 1,020 for and 181 against. The bond was later reduced to $20,000 which was the maximum amount allowed by law for such purchases. The bond was used for the purchase of two trucks and two houses.
By March of 1950, the trustees advertised for two pumpers. The trustees were seeking bids on two types of trucks. The first was for two trucks with heavy-duty chassis without any equipment. The other was for two trucks with heavy-duty chassis with equipment.
In June 1950, a call went out for volunteer fire fighters. Twenty men answered the call. By September, there were fifty men who wanted to be volunteer fire fighters.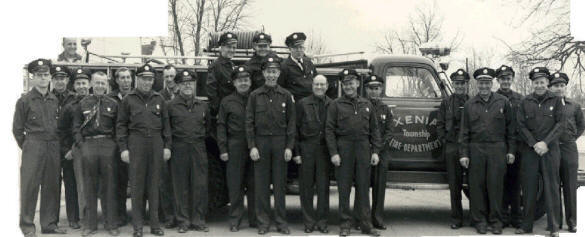 Fire Department with fire engine in front of North End Fire House (Old Town)
According to the Gazette, the first run made by the Xenia Township Fire Department was on November 17, 1950. The call was to the Grover Crawford home on Ledbetter Road. It was a rubbish fire that had spread.
Two fire trucks were purchased from the Central Fire Truck Corporation for the sum of $16,663.10
Today the two original firehouses are still in Xenia Township. One is located on Brush Row Road and is still owned by Xenia Township. It is also used by the Road Department. The former south station is located on U.S. 68 across from the old Ohio Veterans' Children's Home (presently Legacy Ministries International) and is now privately owned for use as an auto repair shop.